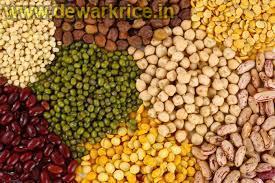 It will not be wrong to say that organic pulses occupy a major share in our food plates and Indian markets too. The entire country has been an ardent lover of pulses for ages. The climatic conditions, soil acceptability, and demand of Indian kitchen ramped up the production of pulses. Not to mention India is among the topmost countries to produce, consume and import pulses. Through this article let us shed some light to understand why pulses are the 'pulse' of Indian kitchens.
What Are Pulses?
Pulses are the edible seeds of leguminous plants that are rich in protein and many other essential nutrients that form part of our daily diet through various recipes. Broadly they are categorized as
• Lentils- yellow lentil, black lentil, pink lentil, etc
• Beans – Yellow kidney beans, Red kidney beans, pink beans, etc.
• Peas- Yellow peas, white peas, green peas.
• Chick peas- Also called 'Kabuli chana' in Hindi.
Nutritious And Delicious:
Undoubtedly, pulses are favored by many for their unique, mushy taste. They go well with any kind of soup or savory. Even they get along with rice for making khichdi and pulao. This feature makes it a profit-making item for many organic pulses suppliers in India. Pulses hold great nutritional value when soaked and boiled; it releases a huge quantity of protein and other minerals like iron, potassium, and folate.
Benefits Of Growing Pulses:
Whether in the kitchen garden or agricultural land, the pulses are 'friendly' to the farmers. They are leguminous by nature, which means they trap the atmospheric nitrogen to their roots and supply the needed nutrients to the soil. If soil is infertile, its fertility can be restored by planting leguminous plants in it. This is the reason why leguminous plants are called 'nitrogen fixers'
Requirements For Cultivation Of Pulses:
Pulses grow well in a loamy soil. The moisture required for the growth of pulses is negligible compared to other commodities. Only for certain plants like peas, the moisture content should be optimum in the soil. Temperature hovering around 25 to 30 degrees is suited the best for their growth. A minimum of 60 days time is required for harvesting a fully matured pulse. It stretches up to 300 days for some pulses.
Indian Pulse Cultivation:
Pulse cultivation in India is quite popular; almost all the states of India produce pulses in their agricultural fields. The adaptability to various climatic conditions makes it quite stable. Still, there are some noteworthy players in this segment. Madhya Pradesh, Karnataka, Rajasthan, Uttar Pradesh has the highest productivity of pulses in India. Today there are many organic pulses suppliers in India.
Health benefits of pulses:
There are many benefits of pulses right from the water it is soaked into the cooked recipes made from them. Pulses are high in fiber content which helps in the healthy metabolism of the body. Being low in cholesterol and fats, they are good for losing weight and cardiac health. High protein and iron content in pulses enable muscle growth and blood count for a fit and sound body.
The advantages and fondness of this irreplaceable commodity of food are matchless with any other edible item. By and large, the country is dependent on this food category that meets our taste buds and health aids too. Take home genuine organic pulses for reaping maximum benefits.