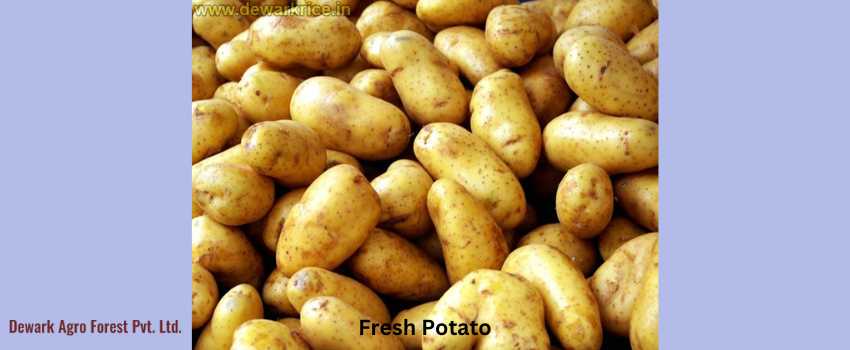 A mainstay in cuisines all over the world, potatoes are one of the most popular and significant food sources on the planet. Potatoes from Fresh Potato Suppliers India may also provide a variety of health advantages.
Among other health benefits, they may improve digestion, decrease cholesterol, support heart health, and protect against polyps. They could boost the immune system, lessen ageing symptoms, safeguard skin, improve circulation, lower blood pressure, keep fluid balance, and lessen sleeplessness.


Potatoes Nutrition Facts:
The abundance of vitamins, minerals, and essential organic components in potatoes has led to their fast spread and general popularity around the world.

● Mineral Content -
Regular potato consumption may help keep your body well-hydrated and ionised. They could be high in potassium, which explains why. The vegetable's skin and the area right below it may have the greatest concentration. So eating potatoes whole may always be advantageous. They might also include phosphate, calcium, and iron.
● Vitamin Content -
It is well known that potatoes may contain significant levels of vitamin C. An average 100 g meal may provide 17 mg of vitamin C. Additionally, they could include vitamins B and A.
● Water Content -
They may weigh between 70 and 80 per cent water. Therefore, it is not entirely accurate to say that eating potatoes causes weight growth. You will, however, inevitably put on weight if your potato portions come with a lot of butter, sour cream, or cheese. Additionally, baking potatoes is advised as opposed to frying them.
● Starch Content -
One of the greatest natural sources of starch may be potatoes, which have a starch content of roughly 17%. However, you should stay away from consuming sprouted potatoes since this might cause the starch to turn into sugar. Additionally, sprouted potatoes may be toxic and typically be poorer in nutrients. It is advised to maintain them in a cool, dry area with little exposure to light if you want to minimise sprouting.


Health Benefits:
● May Promote Weight Gain -
Potatoes from Fresh Potato Suppliers may be predominantly composed of carbs, including protein, and have minimal fat content. When paired with foods including cheese, butter, or cream, they may make a great diet for people who want to gain weight.
Vitamin C and the B-complex may be included in the vitamin content, which may also aid in the efficient absorption of carbs. That might be one of the explanations why sumo wrestlers and many other athletes that require significant energy reserves to perform consume a lot of potatoes.
● Easy to Digest -
Because potatoes may be mostly composed of carbs, they are simple to digest and may help with digestion. This characteristic may make them a suitable diet for infants or those who cannot digest hard food yet require energy. However, keep in mind that consuming an excessive amount of them frequently may eventually lead to acidity.
● High in Fiber -
Additionally, potatoes may include a sizable quantity of fibre or roughage. This might boost gastric juice output and induce peristaltic action, which would facilitate digestion and ward off problems like constipation. Due to its high fibre content, the vegetable may help shield the body against dangerous illnesses like colon cancer. Additionally, fibre may help improve heart health by removing cholesterol from the arteries and blood vessels.
● Aids In Skin Care -
The vitamins C and B-complex, in addition to the minerals potassium, magnesium, phosphorus, and zinc, might well be good for the skin. In addition, the pulp made from mashed raw potatoes may be effective in the face and skin packs when combined with honey.
This may help even skin imperfections and spots. Once more, if applied externally to burns, this pulp may offer prompt comfort and speed up recovery. Rugged skin may be softened with mashed potatoes and even water that has been used to wash them, especially around the elbows.
Before cooking, don't peel a fresh potato. The outer shell could offer effective defence against nutrient loss during cooking. If you boil them after peeling them, the majority of the protein and mineral content that may be present beneath the skin will be gone.